Client Support
How to retrieve your emails using Samsung phones
The following are instructions for Samsung phones. For general help on emails please visit our Email Accounts page.
To set up a new Samsung mail account
Add new email account:

Select manual setup and Select POP3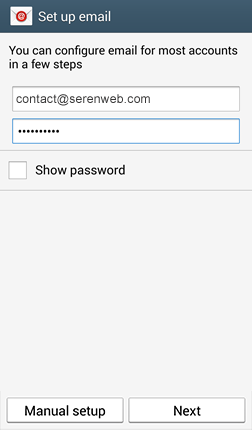 Email address: your-email@your-domain.com
Username: your-email@your-domain.com
Password: ***********
POP3 server: mail.serenweb.com
Security type: None
Port: 110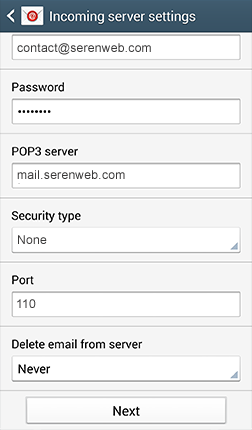 SMTP outgoing: mail.serenweb.com
Security type: TLS (accept all certificates)
Port: 587
Require sign in: leave ticked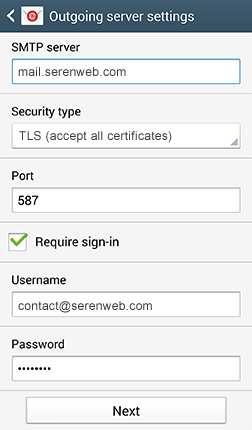 Your device will attempt to connect to the Outgoing server with the settings you have entered. If unsuccessful, you will be prompted to Edit details; confirm your settings and try again. If the connection is successful, you will be taken to the Account options screen. Touch Next when you have finished making your selections.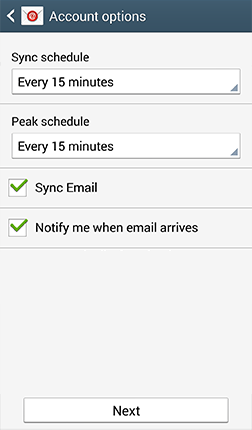 You will be asked to give this internet mail account a unique on-screen name. The unique account name is used to differentiate this account from other email accounts on your mobile device. Enter Your name as you would like it to be displayed on outgoing messages. Touch Next.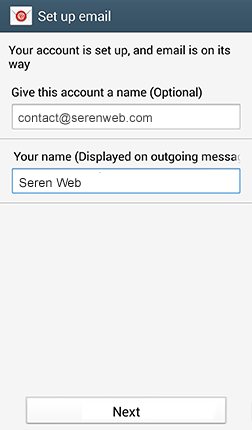 How to use your Samsung phone Social Hub