Client Support
How to retrieve your emails using Thunderbird
The following are instructions for Thunderbird. For general help on emails please visit our Email Accounts page.
To set up a new Thunderbird mail account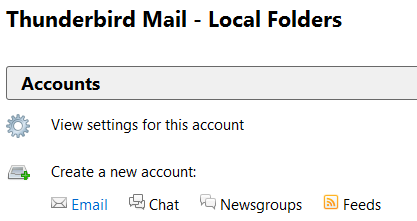 Open Thunderbird.
Select Accounts - Create a new account: Email
Thunderbird offers you a range of their partner accounts. Choose instead Skip this and use my existing mail
Enter your name, email address, for example, your.name@your-domain.com, password and select Continue.
Thunderbird tries to guess the configuration but select Manual config to configure your account your way.
Specify the mail domain name as the incoming mail server and outgoing mail server, for example, mail.your-domain.com
For incoming mail server, choose POP3, port 110 with connection security None
For outgoing mail server, choose port 587, connection security STARTTLS, auhentication method Normal password.
How to check or modify your mail settings in Thunderbird
Open Thunderbird.
Select Accounts - View settings for this account
Edit the incoming mail server settings by selecting Server settings and the outgoing by selecting Outgoing Server (SMTP). Screens shots below show the typical configuration which should work.