Email
You run your business -
We run your email
Anytime, anwhere. Seren Web LLC run business email for you leaving you free to get on with business. Get your mails on any office computer or on the move via any tablet or smart phone.
Business email from £25 / $40 per month
Unlimited mail boxes, unlimited traffic, unlimited mail box size.
Business email
NO limit to size of mail box. In reality beyond 30Gb we discuss archiving with you but only one client in 15 years has hit 30Gb!
NO limit to how many emails you can send. All we ask is that you do not send spam and only mail opted-in folks or to well managed mailing lists you have bought in.
Anti-spam and anti-virus protection. No ads and guaranteed no sharing your messages with any other company.
Out-of-office-reply, as many email accounts as you need
We give a dedicated login so you can manage your mail accounts. BUT, if you prefer we will also make all the changes for you so no techie knowledge required at all. Simply send a support enquiry and we will create new mail addresses, add new auto-responders or make changes to your spam protection.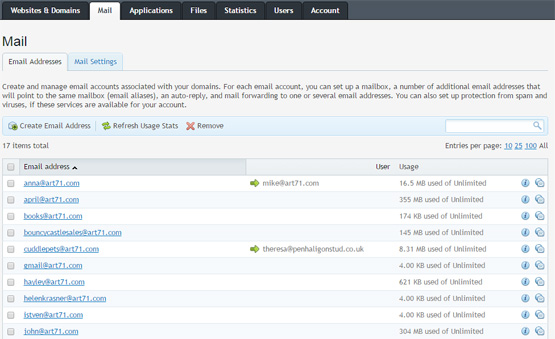 You will always be able to get your email
Since 2000, we have run our own web servers and have 17 years' experience in keeping business email running every single day. With our technical team in Manchester UK we have developed the best possible setup to make sure your email is running every single minute of every single day.
2009 (99.99%)

2010 (100.00%)

2011 (100.00%)

2012 (99.999%)

2013 (100.00%)

2014 (100.00%)

2015 (100.00%)

2016 (100.00%)

2017 (100.00%)

2018 (100.00%)
Total down time in last 6 years is just 35 minutes = 99.9997% availability.
Email Management Help
How to set up and manage your email accounts
Email Accounts
HELP WITH EMAIL ACCOUNTS
OUR APPROACH