What Our Clients Say


During the course of my career in marketing, I've worked with many coders. Most, frankly, I can't even remember the names of. But every now and again you are fortunate enough to bump into a coder with, well ...
a human interface...
That's what you get with Mike and Seren Web - real understanding of the true needs of a functioning website. No spoon feeding necessary. Just explain the thinking behind what you want your site to achieve, hand over your assets and give Mike the opportunity to make sure you're not missing any easy wins. Then ... Hey Pixelo! ... he'll create the answer to your needs. He's quick, too - but not at the expense of quality and depth. Need a website to really work for you? You really need Mike at Seren.


 
Dave Woods, Group Creative Director, JWT LONDON, UK
Powered by Seren Web since 2010


Mike Slater offers a super service; creative, friendly, talented, constant and trustworthy, he is efficient, effective and quick to the point. He offers a very personal service, rescuing and creating websites, solving dilemmas, coming up with solutions as if by magic. All backed up with an, ongoing reliable and trustable service. I have every confidence in him. He has delivered what I wanted and more, beyond my expectations! I would thoroughly recommend you contact Mike to create for you an outstanding and wonderful website.


 
Alison Smith, 'The Rocking Horse Works' and 'Oxford Rocking Horses'
Powered by Seren Web since 2017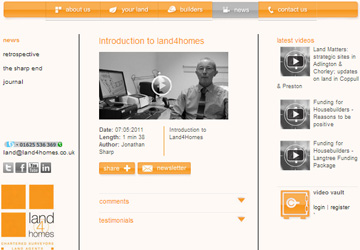 Mike provided us with a cost effective solution, the website really did the trick and got us great levels of exposure.


 
Ian, Land4Homes, Manchester UK
Powered by Seren Web since 2009


I can't believe how quickly the website has appeared, as if by magic, without any hassle at all. Mike has been a swift communicator, just the way I Iike it. I'm so pleased with the finished result, it looks great. I've now got my own website "just like that!"


 
Polly Lovegrove, mid Wales
Powered by Seren Web since 2013


Commissioning Mike and Seren Web to build our new website was straightforward process with clear pricing and timelines given from the outset and no surprises or add ons. Mike's skills in his sector are superb and constantly growing and developing, an essential with all businesses but especially in communications and technology.
Mike delivered what we wanted on time and on budget and the site has since surpassed our expectations in terms of its reach and functionality. Our business marketing is web dependant and using Mike's services has already resulted in a 50% increase in business within 6 months of launching the new site. It has also given us a new level of confidence and ability in segregating and targeting our markets, something we were unable to do with our old site.
What we cannot stress enough is that this success is based on the relationship we have with Mike and the qualities he has both in business and on a personal level. An excellent business partner who we hope to work with for many years to come.


 
Gordon, Budapest Property Rentals, Hungary
Powered by Seren Web since 2012

CONTACT US


I have been using Seren Web's services for over 17 years. Think about it. Seventeen years. There can only be one reason: it is simply the most efficient service available. What does efficient mean? It gets the job done: high rankings, good traffic flow, useful inquiries, friendly interface, and all at a reasonable cost. And no blarney. Now how rare is that in today's world? I would recommend Seren Web to anyone. If you think this is blarney - just email me from my web page


 
John Olsson, The FLI
Powered by Seren Web since 2000


Blues State UK can't recommend Seren Web enough. They're helpful, well informed, fast, efficient, trustworthy and very good value. Never before have we had such good service from a web-master and we've been an on-line business for very long time. We must update and refresh our site constantly and nothing deters Seren Web from helping us quickly and courteously. They're imaginative, artful and always ready to try something new.
Others can be slow and very expensive. Take it from us; it's pointless looking any further for website service! Seren Web have the business nailed! They deserve all the praise they get and jolly good luck to them! Long may the Seren Web/Blues State UK relationship flourish!


 
Eddy Gartry, Blues State UK
Powered by Seren Web since 2009


Very helpful and extremely patient when helping us mere mortals to understand computer terms and lingo. The service provided is perfect. Wouldn't change a thing. Nothing has been too much trouble, very flexible and willing to listen to our ideas and give helpful tips and advice along the way.


 
Liz, Weimaraner Gifts, Solihull UK
Powered by Seren Web since 2005

Finding Mike at Seren Web was probably one of our best business moves this century! Outstanding knowledge and service combined with our very specialised products have culminated in three superb web sites. Having dealt with many web designers over the years I know now that we could have saved a fortune, if only we had found Seren Web first.
All sites are now at least in the top 5 on Google, all have stunning design and great functionality. Our three sites are all increasing in revenue. Behind the scenes, all the work that Seren Web does is stable and 100% reliable, updates are carried out immediately. I am not sure what more we could ask for? An all round great company with a great attitude and service.


 
Aaron, STS North Wales
Powered by Seren Web since 2006


I have had my website since 2003 and in that time I have made lots of changes in the layout of the site. Thanks to Mike and his patience, helping me create a presentable and appealing website that is helping my business grow and be successful.
I have recommended Seren Web on several occasions and I will continue to do so. Seren Web offers a good professional service to all business, for good value and competitive prices.


 
Paul, PG Photography
Powered by Seren Web since 2003

CONTACT US


Mike made the process of designing the website very easy and painless - there was no technical jargon to dazzle and confuse me. My ideas were taken on board and given a professional finish, complete with a touch of humour which captures the essence of the book being sold on the site. As the design developed, Mike was happy to make alterations and to add details which I hadn't thought of during the planning stage. His response to my queries was always very swift. I have been delighted by the result.


 
Jane, Diary of a Slug Hunter
Powered by Seren Web since 2008


Seren Web designed and runs our website and were readily able to comprehend where we thought we differed in a crowded market place. The web site looks distinctive but not full of gimmicks and I have always received positive comments.


 
Angus, Murleigh Retail Estates, London UK
Powered by Seren Web since 2007


Many thanks for your service over the last few years. We always find your services to be professional and very prompt.


 
Sandra and William, Brookfields, Cefn Coch Wales
Powered by Seren Web since 2003


I consulted Mike Slater (Seren Web), whose gifts had been commended by another local arts concern. Immediately I sensed in Mike one whose enlightened outlook was truly cosmopolitan and whose technical skills seemed effortlessly agile - an artist in his own sphere who chose to listen, never impose, and generally to seek consultation face to face, right here in my local rural community.
I'm delighted that the whole process has proved so straightforward and that now my own niche on the world-wide-web bears my fingerprint. I welcome every extension of my online outreach that Mike Slater frequently proposes, then executes effortlessly and rapidly. Indeed I've found a proactive colleague, not a contractor!


 
James Parsons, organist
Powered by Seren Web since 2017

NEXT PAGE OF TESTIMONIALS